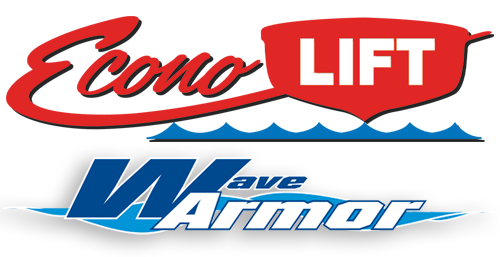 Photo Gallery
ECONO LIFT Model #: 45HDB
4,500 lbs. Boat Lift
Boat Lift Capacity: 4,500 pounds
Slip Size: 8′ -14′
ECONO LIFT Model #: 65HDB
6,500 lbs. Boat Lift
Boat Lift Capacity: 6,500 pounds
Slip Size: 8′ -14′
ECONO LIFT Model #: 1026HDB
10,000 lbs. Boat Lift
Boat Lift Capacity: 10,000 pounds
Slip Size: 10′ -16′
ECONO LIFT Model #: 1428HDB & 2038HDB
14,000 – 20,000 lb. Boat Lift
Boat Lift Capacity: 14,000 to 20,000 pounds
Slip Size: 14′ -20′
Econo Lift PWC Lifts and Wave Armor PWC Ports
1,100 – 4,500 lb. PWC Lifts by Econo Lift
Single and Dual Capacity: 1,100 – 4,500 pounds
Slip Sizes: 52″ x 12′ Frame, 9′ – 14′ x 12′ Frame – (Econo Lift)
Wave Armor SLX5
Port Length: 12 Ft. 8 In. Long
Port Width: 5 Ft Wide
Weight Capacity: 1500 Lbs
Wave Armor APEX A5
Port Length: 14'4″
Port Width 59.5″
Weight Capacity: 1700 lbs
Econo Lift Rough Water Kits
Rough water kits are available for windy or high traffic areas. These are designed to ensure that your dock and boat lift function as a single unit. By attaching bars that help prevent the boat from swaying side-to-side little more than an inch, you can extend the life of your lift and reduce the noise it makes.
Blake's Dock Accessories
Blake's offers a variety of dock accessories, including dock lockers and bumpers.
Tom was very knowledgeable and friendly. Their crew came out to Beaver Lake, installed a new 6,500 lb. lift and got it set up perfectly for my boat. My previous lift was an Econo lift that was 20 years old and still going strong, just too small for my boat. I would highly recommend it if you're in the market for a boat lift. They go above and beyond to treat their customers right. Thanks again!